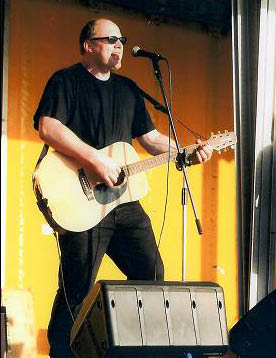 Tony is a singer / songwriter who's narrative-driven music sits somewhere between mature and alternative strands of country, folk and rock. He has been influenced and inspired by artists such as Bob Dylan, Leonard Cohen, Shane MacGowan, Bob Martin, Guy Clark and Bruce Springsteen, and has been playing in bands ranging from punk to blues and as a solo artist for almost 35 years.

In his mid-fities, Tony moved to Africa and discovered a blaze of creativity, writing a whole range of songs and recording them with musicians he met while living in Rwanda and Liberia. Some of those are now available on the CDs you will find here, and you can also find his music on Spotify, iTunes, and all good digital music sources. Live, Tony plays these songs acoustically with guitar and occasional harmonica, and you can hear him live at the Wickham Festival this year.

Tony also writes blues songs and plays harp as part of The Midnight Blues Collective, and their debut CD Bourbon for Breakfast is also showcased here.

Please feel free to contact Tony to talk about music, life, politics, football, or anything else that you feel strongly about.
Tony Arthur